Courtesy of Lago at Bellagio
Almond French Toast, Jalapeño Short Ribs, Parmesan Veal – with MGM Resorts having at least a hundred restaurants between all of their Las Vegas properties covering every kitchen you can think of, figuring out what to get for dinner would give even foodies. the most candid about your Instagram feed choice paralysis. To help you out, not only have we broken down the menu for all of these different restaurants, but we've also picked the brains of the top chefs at MGM Resort so you order the best items right off the (cutting) board.
Classic French comfort food here ranges from chartreuse garlic butter snail in a puff pastry to a variety of suitably tangy Parisian cheeses. Besides their dinner, Bardot really is the perfect place for brunch after a night of Vegas-style shenanigans.
Plate: French toast – it's almost a pound of brioche, with vanilla mascarpone and almond crumble.
Josh Smith, Executive Chef: "When we opened I asked the pastry chef to cut the toast 3 centimeters. The next day what I got in, the drying in sight of the dough, was 3 inches! It was such a success that we increased the size a bit more until the toast was a cube, bringing the total weight to about 1 pound. Sometimes small mistakes in the kitchen can turn into top selling dishes. "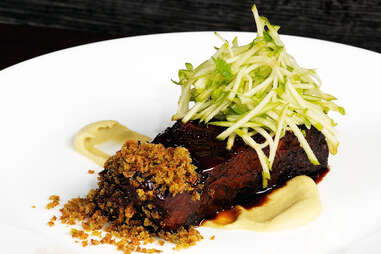 The Jean Georges Steakhouse offers three of the best cuts of meat in the world: USDA Prime, Ranger's Valley Australian Beef and A5 Certified Kobe Beef, one of the most coveted cuts of beef. You can pair them with classic steakhouses or order one of the seafood dishes, like scallops.
Plate: While the steak takes center stage, the short rib with Granny Smith apple and jalapeño was rated the best "fall" dish in Vegas this year by Vegas seven.
Sean Griffin, Executive Chef: "The rib is braised with soy, ginger and star anise until very tender, then it is glazed with its braising juice."
Carbone is themed around classic mid-20th-century Italian restaurants, so think rigatoni and vodka sauce, Chicken Scarpiello and whatever else you'd like to say with an overly thick Italian accent and dramatic hand gestures. . It helps that the setting looks like you are stepping into a black and white crowd movie.
Plate: The veal parm includes homemade mozzarella every day, as well as tomatoes from Jersey that are so good that Carbone also ships pallets to their location in Hong Kong.
Jonah Resnick, Executive Chef: "We started with the best veal we could find, and then we thought about all of the components that go into the dish … Each of those elements elevates a simple dish to a new level and, combined, creates a version that is. the most delicious we have. eat."
Sage is the brainchild of award-winning chef James Beard, Shawn McClain, and the menu is constantly evolving thanks to Mother Nature, the restaurant's unofficial sous-chef. Seasonal farm-to-table ingredients are the highlight of the menu, so right now it's roasted heirloom carrots, a spice-crusted venison loin and a hazelnut espresso mousse for dessert.
Plate: The scallops are served with a braised oxtail, trumpet mushrooms and topped with a caramel reduction.
Christopher Heisinger, Executive Chef: "Scallop and oxtail are Sage's answer to surfing and turf without getting too simple. It's a nice mix of seared scallops and rich, earthy braised oxtail accompanied by a salted caramel reduction. "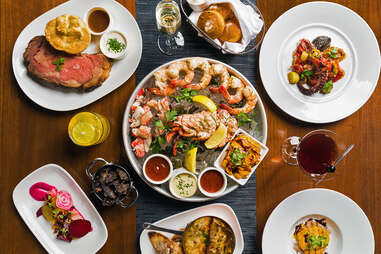 This Tom Colicchio spot serves antibiotic-free steaks over an open flame, in a kitchen that's also open to the dining room – so you can watch your entire meal being prepared in perfectly rare beef glory. Afterwards, the dessert menu has a whole selection of ice creams that are anything but vanilla (but of course you can get vanilla if you really want it).
Plate: The classic prime rib with Yorkshire pudding and gravy. But have no fear if this was your meat-loving friend's choice, because the seafood is top notch.
Matthew Chacho, Executive Chef: Each of these dishes is our take on a centuries-old steakhouse tradition with modern twists. Lately a classic prime rib has become a rarity in town, so we decided to put it on our menu. Our Octopus Dish Charred has become a Heritage Steak staple since day one due to the unique preparation – which involves our infamous wood-fired grill. The Seafood Tower is a crowd-pleaser. "
Morimoto (as in THE Iron Chef Masaharu Morimoto) is a mix of Western and Japanese influences, so the Caesar salad is topped with pan-seared tuna, just like your pizza – if you like. As well as being tasty, the dishes also look like they were made to be 'weighted before you have a bite'.
Plate: The Duck Duck Goose features duck meatball soup, duck confit fried rice, and gooseberry compote, so we're guessing you won't be going around in circles afterwards.
Masaharu Morimoto, chef: "When I was a child, I had two dreams. I wanted to be a baseball player. My hometown of Hiroshima has a Japanese baseball team called Hiroshima Carps. You know, and then I wanted to be a sushi chef. I wanted to create my own restaurant. (One in two isn't bad.)
This Michelin-starred French restaurant is designed to resemble an art deco townhouse, with marble floors and a garden terrace – and the food is equally luxurious. The tasting menu covers everything from caviar to black truffle pies, so be sure to keep your shirt tucked in and your elbows off the table.
Plate: Opt for Le Caviar – Alaskan king crab garnished with osetra caviar, surrounded by shellfish jelly, then sprinkled with cauliflower.
Joël Robuchon, Chef: "The caviar dish is a dish that has recently become a Las Vegas restaurant flagship; initially served in a closed box of caviar, the crab acted as a "surprise," with guests unsure of what was under the caviar. Mixing the creaminess of crab with the salt pop of caviar provides not only the flavor but the textures desired in a restaurant starter course.
L'Atelier is the (slightly) more relaxed version of Chef Joël Robuchon's two restaurants at the MGM Grand. At L'Atelier, the culinary experience is cooking and interactive, but still feels upscale. So you can get the steak, while your friend gets the burger.
Plate: For something more casual, (but still full of whimsy) Le Burger is made with beef and foie gras, then garnished with caramelized peppers.
Joël Robuchon, Chef: "The burger is a fun take on traditional American food culture, with a few big twists. After all, I couldn't open a restaurant in America without making a burger! Beef marries one of my favorite culinary cultures, Japan, for which I have immense respect, with the flavors more commonly associated with French cuisine. Presentation is something new to diners in my restaurants, and pushes us from traditional cuisine to more innovative cuisine, which is exactly what L'Atelier is for me.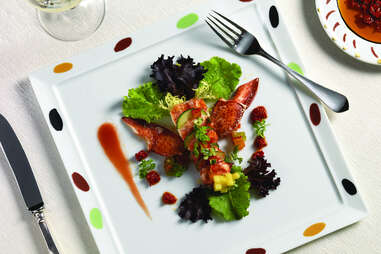 Pablo Picasso's favorite haunts, Spain and France, shape the menu here – if you can tear your eyes off the original Picasso paintings on the walls to read it.
Plate: The Warm Quail Salad features a pan-roasted whole quail, served with crispy artichokes, a fried salad and topped with truffle vinaigrette. It is therefore a salad that is eaten like a starter.
Julian Serrano, Chef: "I've seen guests, they have four quail dishes, even for dessert! It's a true story… "
Chef Jean-Georges Vongerichten's last name may be difficult to pronounce, but "bone-in dry-aged rib eye" is not.
Plate: In addition to the red meat options, the chilled shellfish platter features almost everything the equivalent of a seafood fish market (including a 1.5-pound half-lobster) and is served with a wine mignonette. red, mustard mayonnaise with Sriracha and a classic cocktail sauce.
Jean-Georges Vongerichten, Chef: "I think the role of a chef is not just to cook, but to create cravings."
You can bet you'll find Yellowtail on the menu at Chef Akira Back's sushi restaurant, but you'll also find pork fingers served with tomato sauce and other new take on Japanese cuisine. (So, it's fitting that this place is billed as 'where Japan and Vegas meet'.)
Plate: The Lobster Carpaccio. The lobster is thinly sliced, then accompanied by thinly sliced ​​sweet onions, cilantro and ponzu sauce.
Akira Back, chef: "Yellowtail is more than sushi – it's a modern expression of authentic Japanese cuisine that we put our hearts into."
Mandalay Bay's premier gastro pub serves everything from small shareable platters and appetizers to full entrees, plus an extensive menu of craft cocktails.
Plate: Ahi tuna tartare, served with Asian pear, grilled pine nuts, ancho pepper and sesame oil. It won't weigh you down until you have fun.
Shawn McClain, Chef: "When I think of the best times in life, they usually focus on sharing great meals with friends. So I consider eating to be the ultimate social activity.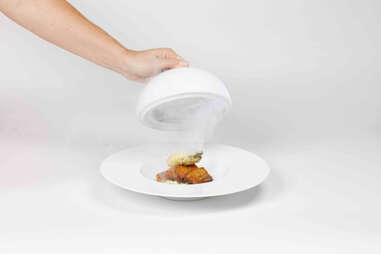 Sure, there's Chef Michael Mina's STRIPSTEAK steaks (and slow-poached steaks in butter, too) – but instead of bread to snack on, they give you duck fat fries. Yes, you read that right.
Plate: Start your steak dinner with the "Instant Bacon" – this is a five-spice pork belly served with an oyster tempura and coleslaw salad.
Michael Mina, chef: "Our steaks are poached in butter in clarified butter infused with sage, thyme and rosemary before being finished on the grill. The infusion of herbs perfectly complements the steak without overpowering it. From there, the steak is grilled over mesquite logs which add to the sweet flavor in addition to the smoke obtained from the open flames.